MTEL Mathematics Book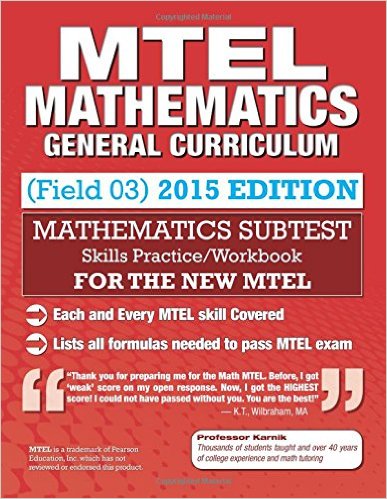 MTEL Mathematics Skills Practice, General Curriculum (03) Subtest
Authored by Professor Karnik
Edition: 2015 edition

SAVE $10 on Professor Karnik's Book!
CLICK HERE
and use Coupon Code: B2V9KL4E
MTEL mathematics, general curriculum 03 subtest skills practice workbook. Over 400 fully solved problems, many open-response questions with solutions, and 72 flashcards of formulas. Covers all skills needed to pass the most current MTEL 03 test!
Hundreds of students have passed the test with the help of this material, testimonials included!
More information available on mathmtelprep.com
Publication Date: Jul 16 2015
Page Count: 212
Trim Size: 8.5" x 11"
Language: English
Color: Black and White
Related Categories: Education / Teaching Methods & Materials / Mathematics